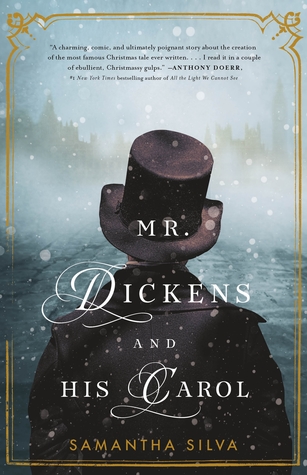 Mr. Dickens and His Carol by Samantha Silva
Format: Audiobook
Source: Scribd
Book rating: ⭐⭐⭐⭐⭐
Narrator: Euan Morton
Narrator rating: ⭐⭐⭐⭐⭐
Genre:  Historical Fiction, Holiday, Christmas
Mr. Dickens and His Carol is a fictional take about how "A Christmas Carol" came to be written. It follows Dickens in his every day life with very normal struggles like family, publishers breathing down his neck, and financial difficulties.
This book surprised me in more ways than one. I was actually expecting this story to be a lot darker than it was, probably because of A Christmas Carol. And that ending!
I could really understand where Dickens' character was coming from in this book. Dickens was really struggling and it made Christmas difficult for him and turned him into a "scrooge". This book also had heartwarming moments like with Little Timothy. I am so happy that Dickens found him. The parallels between this story and A Christmas Carol were obvious, but also sometimes comical.
This book really made me curious about Dickens' inspiration for writing A Christmas Carol. I have discovered that there is a book called The Man Who Invented Christmas: How Charles Dickens's A Christmas Carol Rescued His Career and Revived Our Holiday Spirits by Les Standiford that I plan to read soon.
Overall, I really enjoyed this book: Dickens, Little Timothy, how Dickens would write people from his life as characters in his book; it all made for a very entertaining read.